CEM has decided to stop offering 11+ tests from September 2023
This means that all CEM schools will be required to change test provider from September 2023, with many schools switching to GL Assessment
Why are schools leaving CEM?
In short, they have no other choice. CEM, which is currently a major 11+ exam board in the UK, have made the decision to switch to online. This means that all papers tests from September 2023 will no longer go ahead. If you child is currently in year 5 and taking the 11+ tests in September 2023, they will no longer be doing a test in the CEM format.
What is CEM and how does it differ to GL Assessment?
We have a comprehensive blog on the subject here, but in short, the CEM exam has a greater focus on vocabulary and timing, with many sections being very tough to complete in the allocated time. English, Maths and Non-verbal are similar to GL Assessment for the most part, but the greatest difference is found in the "verbal" section where CEM place a larger emphasis on vocabulary and GL assessment focus more on puzzles and logical reasoning.
It's worth noting that schools may choose to go with an alternative route: they may choose to write the test themselves. Currently, headteachers from 11+ consortia around the country are in discussion, weighing up the costs and benefits of moving to GL Assessment vs. another means of test provision. However, some consortia have already confirmed that they will be switching to GL Assessment, including Gloucestershire and Bexley.
Which schools are affected?
Nearly 50 schools are affected – that's 1 in 3 grammar schools in the UK. Affected consortia include Slough consortium, Bexley consortium, Reading consortium, Redbridge Consortium, Medway Kent consortium, Gloucestershire consortium, Trafford Consortium, Wolverhampton, Shropshire & Walsall Consortium, and Devon consortium.
Here are the list of schools who will be moving away from CEM exam board from September 2023:
Adams' Grammar School
Altrincham Grammar School for Boys
Altrincham Grammar School for Girls
Bacup & Rawtenstall Grammar School
Beths Grammar School
Bexley Grammar School
Bishop Wordsworth's School
Chatham Grammar School for Girls
Chelmsford County High School for Girls
Chislehurst & Sidcup Grammar School
Churston Ferrers Grammar School
Colyton Grammar School
The Crypt School, Gloucester
Denmark Road High School
Fort Pitt Grammar School
Heckmondwike Grammar School
Herschel Grammar School
Holcombe Grammar School
Ilford County High School
Kendrick Girls' Grammar School
Langley Grammar School
Marling School
Newport Girls' High School
Pate's Grammar School, Cheltenham
Queen Elizabeth Grammar School
Queen Mary's Grammar School
Queen Mary's High School
Rainham Mark Grammar School
Ribston Hall High School
Rochester Grammar School
Sale Grammar School
Sir Joseph Williamson's Mathematical School
Sir Thomas Rich's School
St Bernard's Catholic Grammar School
Stretford Grammar School
Stroud High School
Torquay Boys' Grammar School
Torquay Girls' Grammar School
Townley Grammar School
Upton Court Grammar School
Urmston Grammar School
Wolverhampton High School for Girls
Woodford County High School
How should I change my 11+ preparation?
Here at Exam Happy, we are specialists in the GL Assessment tests. Our sample papers and full-length paid papers should give you a good idea of what will come up in the 11+ GL assessment exam if your child was meant to sit the CEM exam.
We also have a monthly subscription where we send full-length 11+ Maths & English papers in GL Assessment format directly to your email address. It's the most cost-effective way of accessing 11+ GL Assessment papers – you can use this link to get 40% off your first month.
To access answers to our papers, just take a photo of your answer sheet with our 11+ app and the app will automatically mark it for you. Video solutions are also included with every question so your child can learn from their mistakes 😊
Here's a 1-minute demonstration of how to upload your answer sheet with the app.
What evidence do we have?
An email from CEM (names have been removed to be GDPR compliant)
This letter from the Crypt School
CEM has removed paper based products from their website
Quick succession of Local Authorities and Grammar Schools announcing they are leaving CEM (e.g., Bexley, Gloucestershire, Trafford, Slough)
Verbal feedback from admissions teams around the country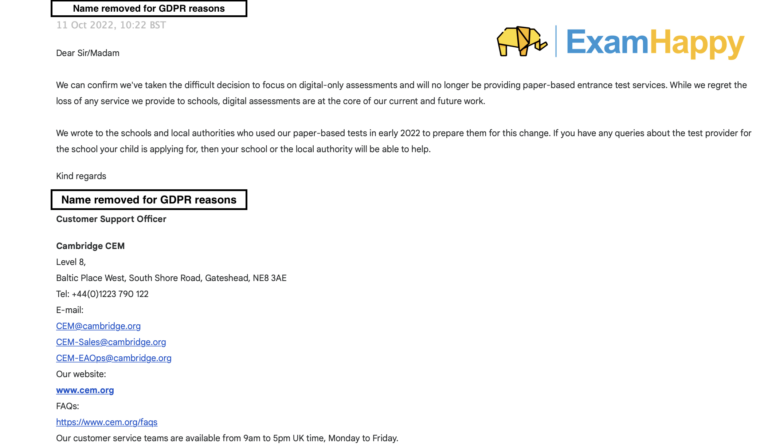 If you have any questions about this news or need advice on how best to prepare, please don't hesitate to email us at support@examhappy.co.uk.

Alternatively, you can join our WhatsApp group to stay up-to-date with the latest updates and free materials: